I wish that every day I woke up before my alarm, ready to hit the gym, sweat off a few pounds and hit some new PRs.  But guess what – I don't. 
As a matter of fact, there are some days that the most motivation I have is reaching for the remote control to watch yet another episode of The Real Housewives.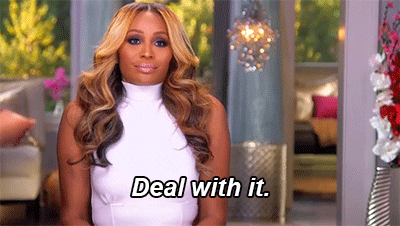 But you know what – results don't happen by sitting on the couch. I'm not going to see the scale move down or my bench press go up unless I'm hitting the gym.
So, what do I do to find motivation to get my booty out of my pjs and into my workout gear? Good thing you asked – because that's exactly what I'm blogging about today.  I'm sharing a few tips on how to get motivated when you're just not motivated.
Ways to Motivate Yourself
#1)Hit up Pinterest: Okay, Pinterest is a great way to waste some time. But, it's also a great place to go if you're needing a little push to get to the gym. Under the categories, just click on "Health and Fitness." This category is going to show a whole host of random fitness stuff: healthy recipes, exercises, memes and, the most motivating for me, for girls in tiny workout gear. Ugh. Gets me motivated every time. 
#2) Text My Girls: Another tried-and-true way to get me motivated is to text one of my
accountability girls. My text is usually kinda' whiny, complaining I don't want to workout or excuses why I can't/shouldn't workout out. Without fail, they're there with a response (usually reminding me of my goals or that bathing suit weather is right around the corner) or to offer to go workout with me. Y'all this works best with someone that knows you well enough to be honest, straightforward and sometimes harsh with the truth (I've gotten a few "don't worry, they sell your dress in a bigger size" texts.) But, it works every time. 
#3) Look at "Before" Pictures: Ahh, this one will definitely do it for me. I'll check out a few of my pictures before I started working out. Ones where I'm a bit "fluffier" than I am now. It reminds me how much healthier, happier and fitter I am now. And how I do NOT want to go back to that. And before I know it, I'm lacing up my shoes. 
#4) Go Anyway: There's a sign on my gym door that says, "You're only one workout away from a good mood." On the days I don't want to workout, I usually hate that damn sign. But, when I finish my workout on those days, I have to admit – it's so true. Just make yourself go workout anyway. You don't have to kill every workout. Just go. Some workout is better than no workout. 
Guys, you can't always be motivated. Motivation is a tricky little minx that comes when she wants to and disappears when she doesn't – that little tease. The key is knowing how to motivate yourself when your motivation isn't there. 
Try the tips above. They work for me. The bottom line is find a way to motivate yourself. Because, take it from experience, the day will come when it won't be easy or convenient or fun to workout. So, you'll need to know how to "manufacture" your motivation.
Now, I could NOT end a blog post about motivation without including one of the best/funniest/most motivating videos of all time.  Check THIS out (you're welcome…)
Get your motivation mojo going!
 – Rebecca